A man's library is a sort of harem. — Ralph Waldo Emerson
I have always imagined that Paradise will be a kind of library. — Jorge Luis Borges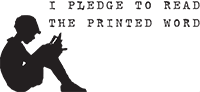 Contributors:
¿Quién es esa chica?
Okjol
| Bookporners Reading Recommendations |
Original and submitted posts
| List of Authors on Tumblr |
10 Books That Have Stayed With You |
Ask |
Submit
July 23, 2014
(by Bertonyny)
(via tamerlian67)
July 23, 2014
How cute does Mark Twain reading in bed looks?
(Source: laescrituradesatada, via tumblerete)
July 23, 2014
July 23, 2014
(Source: ruudbaan, via nakedbookshelf)
July 23, 2014
(Source: eveninoursleep, via unrepentantbibliophile)
July 23, 2014
by jamigreenfield:

Some Eva Braun and a ridiculous dress to beat the heats.
July 22, 2014
"
Some of the books that I consider my favorite are ones that rock me to my core, that leave me feeling like someone squeezed my heart really tightly for those 300 to 400 pages. But the idea of going through that experience for a second time? No, thank you.
Not only do I not want to experience that kind of emotional roller coaster for a second time (let's ignore the fact that I continue to go through it, just with different books), but what if it is worse a second time around? Now that I know what is coming, will the ride only be worse because I am just waiting for events to occur? Will I even have the strength to continue through the book a second time around? Part of me thinks it is like knowing that an oven is hot and choosing to touch it anyway.
"
— from On Books I Love That I'll Never Reread by Rincey Abraham (via bookriot)
July 22, 2014
July 22, 2014
Reading room, John Rylands Library (by x)
(via proseandpassion)
July 22, 2014
this is me reading a book 
(Source: sodapopbreakfast)