A man's library is a sort of harem. — Ralph Waldo Emerson
I have always imagined that Paradise would be a kind of library. — Jorge Luis Borges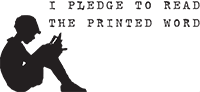 Contributors:
¿Quién es esa chica?
Okjol
| Bookporners Reading Recommendations |
Original and submitted posts
| List of Authors on Tumblr |
10 Books That Have Stayed With You |
on Facebook |
Bookish Artists on Tumblr |
Ask |
Submit
September 30, 2014
Douglas Smith
(via chiranthodendron)
September 30, 2014
The Idiot
by Fyodor Dostoyevsky

Random Line: …we can't understand everything at once, we can't start right out with perfection! To archive perfection, one must first begin by not understanding many things! And if we understand too quickly, we may not understand well.
September 30, 2014
September 30, 2014
September 29, 2014
Bookish Height!

5 feet and 7 inches of books! 
(via theurbanblabbermouth2)
September 29, 2014
by jamigreenfield:

"This is a most unfortunate affair, and will probably be much talked of. But we must stem the tide of idle chatter, and pour into our wounded bosoms the soothing balm of vengeance." 
― Seth Grahame-Smith, Pride and Prejudice and Zombies
September 29, 2014
discoisgenetic: "Winning words with a lucky ring" Homer's Odyssey, Book II (Trans. Robert Fagles)
September 29, 2014
Robert May (1588?-1664) was one of very few cooks in England who received extensive training in English and French training (and even some Spanish and Italian). May was the son of Edward May the cook for the Dormers of Ascott Park, a wealthy Catholic family.  "W.W.," May's biographer, believed that it was the Dormers' and his father's influence that led to May studying cookery in France for five years. After his training, May worked with his father and cooked for the Dormers. He was chef to a numer of other Catholic families within the Dormers' social circle as well.

May's biography prefaces his book, The accomplisht cook, or, The art & mystery of cookery. May included incredibly detailed descriptions on how to prepare flesh, fowl, fish, or any other manner of à-la-mode curiosities.  The book includes small woodcuts throughout, but the most exciting features are the fold out diagrams for making all manner of pies.  Two whole chapters are dedicated to the many ways to make pies! If you are making a fish pie the crust better show the shape of the fish you are preparing!

-Jillian (who now wishes she had found this book before making her first pie last weekend)
September 29, 2014
My penguin colony.
September 29, 2014
(Source: interiordecline, via 336bc)