A man's library is a sort of harem. — Ralph Waldo Emerson
I have always imagined that Paradise would be a kind of library. — Jorge Luis Borges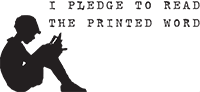 Contributors:
¿Quién es esa chica?
Okjol
| Bookporners Reading Recommendations |
Original and submitted posts
| List of Authors on Tumblr |
10 Books That Have Stayed With You |
on Facebook |
Bookish Artists on Tumblr |
Ask |
Submit
August 31, 2014
August 31, 2014
via bookpatrol:

Stack by Patrick Hall 

2005 plywood, collected books, typewriter keys172.0 (h) x 97.0 (w) x 50.0 (d) cm
August 31, 2014
(Source: intoxicatedmermaids, via theheroinenextdoor)
August 31, 2014
Reader family / Familia lectora

(autor desconocido)
August 31, 2014
These were some of my favorite books as a kid. It's weird to see them in antique shops these days.
August 31, 2014
by patrickleger:

My cover for the novel "Nobody Is Ever Missing" by Catherine Lacey for FSG. The art director was Charlotte Strick.
August 31, 2014
"I have always been a reader; I have read at every stage of my life, and there has never been a time when reading was not my greatest joy. And yet I cannot pretend that the reading I have done in my adult years matches in its impact on my soul the reading I did as a child. I still believe in stories. I still forget myself when I am in the middle of a good book. Yet it is not the same. Books are, for me, it must be said, the most important thing; what I cannot forget is that there was a time when they were at once more banal and more essential than that. When I was a child, books were everything. And so there is in me, always, a nostalgic yearning for the lost pleasure of books. It is not a yearning that one ever expects to be fulfilled."
— Diane Setterfield, The Thirteenth Tale.
August 31, 2014
"The Sisterhood of the Traveling Pants" by Ann Brashares (2001).
August 31, 2014
August 31, 2014
Daguerreotype portrait of an unidentified man holding a book with another man moving into frame behind him, c. 1840's. One of the earliest examples of photobombing.
(via rockford1)