A man's library is a sort of harem. — Ralph Waldo Emerson
I have always imagined that Paradise will be a kind of library. — Jorge Luis Borges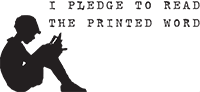 Contributors:
¿Quién es esa chica?
Okjol
| Bookporners Reading Recommendations |
Original and submitted posts
| List of Authors on Tumblr |
Ask
Submit
December 5, 2013
1970 la rivoluzione sessuale
December 5, 2013
Skull Series - Tentaskull by PrudencePrint
December 5, 2013
What happens when you lay on the floor and let the cat play with your hair…you get bored and take pictures…
December 5, 2013
essajetticks: One of my many shelves, with my tea in a broken blue cup
December 5, 2013
fictionalcharactersreadingbooks:

Herman Munster of The Munsters reading The Murders In The Rue Morgue by Edgar Allan Poe
(Source: sipondreams, via awesomepeoplereading)
December 5, 2013
Holiday Gifts for Your Favorite Feminist
We at the Feminist Press are no strangers to the paralyzing terror gift-buying. So we came up with a handy guide for your the feminist literatis on your list.You can find the complete guide here, but these are some top picks:

For the Comic Book Geek:

Spit and Passion ($15.95) is the…
December 5, 2013
A new piece I created for Julia Rothman's upcoming book The Who, the What and the When: 65 Artists Illustrate the Secret Accomplices of History, (Chronicle).

I was assigned Maurice Sendak's brother Jack, a writer, collaborator and extremely important figure in Maurice's life. I can really relate to those magical, safe spaces siblings create together. My own sister has been such a big source of inspiration, I quite literally don't know who I would be without her. 

BIG thanks to Julia for asking me to be a part of this project. I am so excited to see all of the amazing contributions come together! I am already so WOW'd by my friend Jensine's piece. 
December 5, 2013
(Source: shadoweyes-ontheway)
December 5, 2013
Nabokov reads.
December 5, 2013
(Source: that-fml-moment)