A man's library is a sort of harem. — Ralph Waldo Emerson
I have always imagined that Paradise will be a kind of library. — Jorge Luis Borges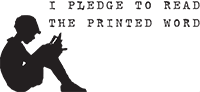 Contributors:
¿Quién es esa chica?
Okjol
| Bookporners Reading Recommendations |
Original and submitted posts
| List of Authors on Tumblr |
10 Books That Have Stayed With You |
Ask |
Submit
April 17, 2014
by babalaas:

© reserved
April 17, 2014
April 17, 2014
Illustrations by Fortuné Méaulle for Alphabet des Insectes by Leon Becker 
(France, 1883)

The scans come from the Bibliothèque nationale de France.

A previously-covered Cotsen exhibit says about the book:

Insects stand in for people in this highly fanciful French alphabet. In addition to weight-lifting or parading down the boulevard, they file into church, ice skate, duel, dance, sail, paint, serenade a lover or invite her to dance, and, of course, improve their minds reading.

Hetzel was one of the most important publishers of children's books in late nineteenth-century France, whose publications were distinguished by their handsome gold-stamped cloth bindings and excellent illustrations.

You can see covers Meaulle (fr.wiki) did for Le Petit Journal here.
(via 336bc)
April 17, 2014
by miguelalmagro:

Long time ago  I drew comics
April 17, 2014
svlc:
Fabric designs for an installation I'm doing in March.
April 17, 2014
April 17, 2014
ransom and i got married several months ago in an intimate ceremony, but recently had a larger reception for more family and friends, and it was a blast! as we're both writers, it seemed fitting to have the event at one of our favorite bookstores: the last bookstore in downtown LA. we've had a lot of requests for photos, so i thought i'd drop a few here. hope you enjoy them as much as we do! 

:::for the especially curious:::

my bouquet: was made from the pages of ransom's novel (miss peregrine's home for peculiar children).

our photographers: brandon + katrina of brandon wong photography.

venue: the last bookstore in downtown los angeles.

catering: the extremely fabulous heirloomla.

flowers: from floral art!

rentals: furniture from found rentals, dishes from dishwish!

the band: one of our favorite local indie bands, the gallery.

—

hugs and books!

xx

tahereh
(via lumenstar)
April 16, 2014
April 16, 2014
Alright, I know, there have been a high volume of old books on here recently. Upon arriving home for a short vacation, guess what - more old books.
But really, you should see the entire bookshelf of Napoleon swag my parents have come to accumulate over the years. As it turns out, history nerdom is hereditary.
April 16, 2014
Badly needs organizing come help.