A man's library is a sort of harem. — Ralph Waldo Emerson
I have always imagined that Paradise would be a kind of library. — Jorge Luis Borges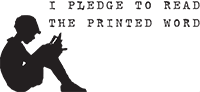 Contributors:
¿Quién es esa chica?
Okjol
| Bookporners Reading Recommendations |
Original and submitted posts
| List of Authors on Tumblr |
10 Books That Have Stayed With You |
on Facebook |
Bookish Artists on Tumblr |
Ask |
Submit
September 18, 2014
by Sean Yeh
September 18, 2014
(Source: bookpatrol, via unrepentantbibliophile)
September 18, 2014
(via barnsburntdownnow)
September 18, 2014
The Indestructible One Syllable Primer: For Home and School Use, One Hundred Illustrations (New York: McLoughlin Brothers, 1878).

It's back-to-school day here at USF, and in honor of the new school year, we found this primer from 1878. Unlike its Puritan ancestors, which were strictly morally didactic, this primer juxtaposes moral lessons (do not lie!) with more entertaining illustrations of animals. This primer is "indestructibly" printed on linen rather than the more easily ripped paper.
(via uispeccoll)
September 18, 2014
"When the uncertain future becomes the past, the past in turn becomes uncertain".
September 18, 2014
Coby Whitmore
September 17, 2014
September 17, 2014
September 17, 2014
Villa Necchi Campiglio - Milano
September 17, 2014
(via lumenstar)