A man's library is a sort of harem. — Ralph Waldo Emerson
I have always imagined that Paradise will be a kind of library. — Jorge Luis Borges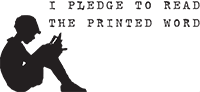 Contributors:
¿Quién es esa chica?
Okjol
| Bookporners Reading Recommendations |
Original and submitted posts
| List of Authors on Tumblr |
10 Books That Have Stayed With You |
Ask |
Submit
July 27, 2014
July 27, 2014
(Source: nigel-bd, via 4strong-winds)
July 27, 2014
by Sean Yeh
July 27, 2014
Getting my reading game on.
July 26, 2014
Seattle Public Library open air pop-up reading room and library. Westlake & Denny. July 7, 2014
July 26, 2014
HRC Incun 1492 M887t (front and back pastedowns) Creator: Iustinianus—see comments below
Text: Digesta Iustiniani
Region: Italy
Date Range: circa 1250-1350
Layout: 22 lines in 2 columns (per pastedown)
Support: parchment
Dimensions: 150 x 205 mm
Language: Latin
Script: Gothic Bookhand (Southern Textualis Libraria/Formata)
Structure and location: front and back pastedowns

This image was taken as part of a survey of medieval manuscript binding waste at the Harry Ransom Center. Comments regarding script, dating, localization and identification of text are highly encouraged and appreciated.

For a diagram showing the structural features of a book click here

Information about the book this manuscript waste was found in can be viewed in the online public access catalog of the University of Texas at Austin.


by The Fragments Project http://flic.kr/p/eFrZhL
(via tamerlian67)
July 26, 2014
Not sure we would even try to cut this cake.  http://bit.ly/1qGQCQP
(via sushigrade)
July 26, 2014
by photos91:

Biking and shopping for books in Jimbocho.
July 26, 2014
July 26, 2014
jan vermeer de delft by gustave vanzype, 1921, with 37 photoengravings of vermeer's paintings, limited to 440 copies.