A man's library is a sort of harem. — Ralph Waldo Emerson
I have always imagined that Paradise would be a kind of library. — Jorge Luis Borges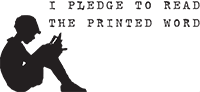 Contributors:
¿Quién es esa chica?
Okjol
| Bookporners Reading Recommendations |
Original and submitted posts
| List of Authors on Tumblr |
10 Books That Have Stayed With You |
on Facebook |
Bookish Artists on Tumblr |
Ask |
Submit
July 27, 2014
July 27, 2014
Fairy Tale Bookmark Set available in my Etsy and DaWanda online shop.
July 27, 2014
July 27, 2014
A Book by Emily Dickinson book sculpture by Malena Valcárcel
July 27, 2014
This week marks the third anniversary of my local Borders Store closing.  The store front is still there.


RIP
Please, please, please… support your local bookstores!
July 27, 2014
rainbow potter
July 27, 2014
Reading by Lamplight, 1858, James Abbott McNeill Whistler
(Source: laclefdescoeurs)
July 27, 2014
(via theurbanblabbermouth2)
July 27, 2014
July 27, 2014
(Source: nigel-bd, via 4strong-winds)