A man's library is a sort of harem. — Ralph Waldo Emerson
I have always imagined that Paradise will be a kind of library. — Jorge Luis Borges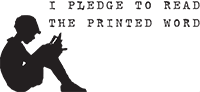 Contributors:
¿Quién es esa chica?
Okjol
| Bookporners Reading Recommendations |
Original and submitted posts
| List of Authors on Tumblr |
10 Books That Have Stayed With You |
Ask |
Submit
July 24, 2014
I haven't read any stories in this yet but everything about it is gorgeous! 
July 24, 2014
by tezzer57:

Sell 067 ~ Golblin Market on Flickr.
July 24, 2014
New project in work phase…

House Targaryen Journal - 10 x 8 inches - thickness 1.5 inches - genuine alligator leather - glass eye - chains - dragon claws closure system - etc.
_________
http://www.alexlibris-bookart.com/
July 24, 2014
"Book Nerd" Tea Light Sample Pack from Frostbeard Studio.

The "Book Nerd" Sample Pack offers six different tea light testers of our Book Lovers' Candles. These candles are completely original scents inspired by the smell of nerdy books, their settings and characters. 

Scents Included:

Shire - Oakmoss, clover, aloe, and a hint of pipe tobacco. Refreshing and earthy.

Don't Panic (Fresh Towel) - Fresh linen and green tea. Soothing and refreshing.

Winterfell - Pine tree and firewood. The perfect cozy, Winter fragrance.

Mockingjay - Scotch pine and cinnamon. Warm and woodsy.

Cliffs of Insanity - Sea mist fragrance oil and Caribbean teakwood.

Sassenach - Lavender, thyme and basil. Refreshing herbal mix.

Buy yours here!
(via theheroinenextdoor)
July 24, 2014
Miner bookends
(Source: etsy.com)
July 24, 2014
by savantml:

Michale Leibow - Wheels 2013.  The Talking Stick, Venice, CA.
July 24, 2014
Chuck Palahniuk • Friday, July 25th • 4pm ET /1 pm PT

In celebration of Comic-Con, the announcement of Fight Club 2 and the fall novel, Beautiful You, we're taking your questions right here on Tumblr.

Submit your questions via the Ask Box (here) and Chuck will answer them live from Comic-Con on Friday, July 25th at 4 pm ET/ 1pm PT.

And, be sure to check out the new book, coming October 21st, 2014.
July 24, 2014
by idontsitback:

Out Of Reach (Day 142)
July 24, 2014
July 24, 2014
The Book Thief (2013) 
Edit by me || Transparent

"You cannot be afraid, Read the book. Smile at it. It's a great book-the greatest book you've ever read." ― Markus Zusak, The Book Thief