A man's library is a sort of harem. — Ralph Waldo Emerson
I have always imagined that Paradise will be a kind of library. — Jorge Luis Borges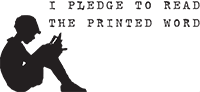 Contributors:
¿Quién es esa chica?
Okjol
| Bookporners Reading Recommendations |
Original and submitted posts
| List of Authors on Tumblr |
10 Books That Have Stayed With You |
Ask |
Submit
July 21, 2014
Urban entrails. Chicago subway. by marcelo ferrer (photo emma ferrer) find me at grandmilodon.
July 21, 2014
An Awesome Discovery
The other day I visited one of my local comic shops on a whim. I was driving home and had no intention of stopping, but something made me pull into the parking lot. I walked in and began browsing the shelves, looking for nothing in particular. Then, randomly on a counter top in the back of the store, I found a set of small hardcover books.

It took all of two seconds for me to decide I needed these in my life. I'd never heard of the 'Little Books' series. Some research taught me that there were 15 in all, published by Borderlands Press. When I brought the set home I was a little saddened to find that it was missing the Neil Gaiman book, but the rest were all there. Some were even from the original signed printing.

I stumbled into an awesome set of books. What's the best thing you've ever stumbled across on a random bookstore trip?
July 21, 2014
July 21, 2014
"She belonged in libraries and book stores. She left her heart between the pages of her books."
— (via likearegularbookworm)
(via luc0420)
July 21, 2014
What is your favorite type of book? Is it a curdler? A Bildungsroman? Do you like to sit down with a good penny dreadful every once in a while?

We've delved into the Historical Thesaurus of the Oxford English Dictionary to find different words for book and various types of book through time. Find out some unusual historical words that we've used to describe books and stories.
(via books)
July 21, 2014
July 21, 2014
As pointed out to me on Twitter… the law books are OUT OF ORDER 

AHHHHHHHHHHHHHHHH!!!!!!! 

nonononono
July 21, 2014
Her mother's vintage copy of Betty Crocker's Cookbook—which helped inspire part of Everything I Never Told You.  Celeste will be doing readings through the fall, see where she's headed next www.celesteng.com/events
July 21, 2014
"Collect books, even if you don't plan on reading them right away. Nothing is more important than an unread library."
— Austin Kleon 
(Source: observando, via elfyahamok)
July 21, 2014
(Source: humansofnewyork)