A man's library is a sort of harem. — Ralph Waldo Emerson
I have always imagined that Paradise would be a kind of library. — Jorge Luis Borges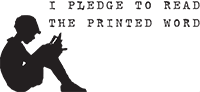 Contributors:
¿Quién es esa chica?
Okjol
| Bookporners Reading Recommendations |
Original and submitted posts
| List of Authors on Tumblr |
10 Books That Have Stayed With You |
on Facebook |
Bookish Artists on Tumblr |
Ask |
Submit
July 29, 2014
July 29, 2014
1940s Hawkeye Yearbooks in the Reading Room.
July 29, 2014
Reading cat by Amanda K
(via proseandpassion)
July 29, 2014
via compoundchem:

Today, a look at the contributing compounds to 'old book smell', and the origins of the less well researched 'new book smell': http://wp.me/p4aPLT-hV
(via thebeautifulstillness)
July 29, 2014
(Source: marcusabout)
July 29, 2014
(via lumenstar)
July 29, 2014
Miniature Monday!  (I made it…).

This tiny mini blank book is chained to its larger relative, and fits in the little recess in the cover. 

Statement from the artist's website: (Click here!)

"Until fairly recently all books were prized possessions — medieval libraries chained books to the shelves to prevent theft. In those days each volume was crafted with precision, elaborately decorated and embellished with precious stones and metals. I aim to make my books just as precious as those medieval manuscripts."

[Chained book on a book].  [Asheville, NC : Dan Essig, 1999]

Catalog: N7433.4.E55 C5 1999a 
July 29, 2014
(Source: doloresclaiborne)
July 29, 2014
July 28, 2014
Game of Thrones Bookend – What better to hold the volumes of George R.R. Martin than the Iron Throne itself.