A man's library is a sort of harem. — Ralph Waldo Emerson
I have always imagined that Paradise would be a kind of library. — Jorge Luis Borges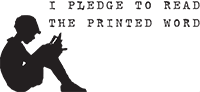 Contributors:
¿Quién es esa chica?
Okjol
| Bookporners Reading Recommendations |
Original and submitted posts
| List of Authors on Tumblr |
10 Books That Have Stayed With You |
on Facebook |
Bookish Artists on Tumblr |
Ask |
Submit
August 29, 2014
August 29, 2014
Anonymous said: imagine a dragon who hoarded librarians and every so often knights come to rescue them and the librarians get very upset because the dragon is quiet and reshelves everything neatly and the knights are Very Annoying
gallifreyanconsultingdetective:

can I just

Yes please?

This is wonderful, assuming the dragon also shelves things correctly. Lord knows that the knights wouldn't.
August 29, 2014
For the 2013 Lisbon Architecture Triennale artist Marta Wengorovius teamed with architect Francisco Aires Mateus to produce this little slice of paradise; a reading cabin for one.     

The simple wood structure is fit for one person, holds one bookshelf and has a raised seating area and that's it. It is light by a skylight.

The artist populated the bookshelf by asking 20 guests to choose three books each for the library.

"Sharing this itinerant project creates a community between people who read the books, the guests who chose the books and the people who will read the books wherever the cabin shall pass," says Wengorovius.

The project had its first opening on December 2012 in Paredes, north of Portugal. The library is scheduled to be in a different place each year. If exhibited in a foreign country the books will be translated and available in the native language of the country.

Full coverage at dezeen: One, Two and Many by Marta Wengorovius
August 29, 2014
August 29, 2014
Algunos de mis dibujos en el libro "Bitácora de Duendes nº6"
August 29, 2014
Get Your Poems on Button Poetry!
TWO MORE DAYS to submit your poems to Button Poetry's annual chapbook contest! Winner receives a $500 cash prize, 50 free copies, and roundtrip travel to Minnesota for a book release party, filmed by Button. Note: ALL FINALISTS FROM THE CONTEST will be invited to perform and be filmed at a Button show. Don't miss out, and make sure to like and reblog to spread the word!
August 29, 2014
"
It's a common and easy enough distinction, this separation of books into those we read because we want to and those we read because we have to, and it serves as a useful marketing trope for publishers, especially when they are trying to get readers to take this book rather than that one to the beach. But it's a flawed and pernicious division… a debased cultural Puritanism, which insists that the only fun to be had with a book is the frivolous kind, or that it's necessarily a pleasure to read something accessible and easy. Associating pleasure and guilt in this way presumes an anterior, scolding authority—one which insists that reading must be work.
But there are pleasures to be had from books beyond being lightly entertained. There is the pleasure of being challenged; the pleasure of feeling one's range and capacities expanding; the pleasure of entering into an unfamiliar world, and being led into empathy with a consciousness very different from one's own; the pleasure of knowing what others have already thought it worth knowing, and entering a larger conversation.

[…]
The fallacy that the pleasures offered by reading must necessarily be pleasures to which a self-defeating sense of shame is attached offers a very impoverished definition of gratification, whatever book we choose to pull from the shelf.
"
—
In a beautiful New Yorker essay, Rebecca Mead, author of My Life in Middlemarch, extols the pleasure of reading to impress yourself.
Here's to making your own "beach reading" both pleasurable and intelligent.
(via
explore-blog
)
August 29, 2014
#ThisIsMyBookstore. What's yours? We're collecting photos of favorites across the globe. Submit yours here or on Instagram: http://ow.ly/ASwki 
(via bookpatrol)
August 29, 2014
(Source: idinahuidrug, via tamerlian67-deactivated20140802)
August 29, 2014
阅读之美:2014年第二季书馆摄影总汇

In 2014 Reading Is Beautiful Season 2 we collected photography of books in the stores and libraries. Smell the enchantment?

Reading Is Beautiful 第二季从网络中收集了书籍在书店和图书馆中的倩影。无论在世界的哪个角落,总是有这样一个像秘密花园一样的地方随时恭候渴望静谧的人。有的书井井有条地排布,有的书店从地面到房顶都堆满了书,有的地方成了爱书人们的聚会之所,有的则成为城市的骄傲。

进入全文,点击链接访问完整相册,以及详细的书店/图书馆地址信息。