A man's library is a sort of harem. — Ralph Waldo Emerson
I have always imagined that Paradise will be a kind of library. — Jorge Luis Borges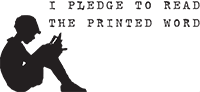 Contributors:
¿Quién es esa chica?
Okjol
| Bookporners Reading Recommendations |
Original and submitted posts
| List of Authors on Tumblr |
10 Books That Have Stayed With You |
Ask |
Submit
April 24, 2014
http://mariestel-art.tumblr.com/ on tumblr
April 23, 2014
Three by Jacob Masi
April 23, 2014
April 22, 2014
April 22, 2014
Help Them Read Org
Just by voting for your favorite children's book at www.helpthemread.org, you can place a book in the hands of a child! For every vote, Scholastic will donate a book to a Barbara Bush Foundation for Family Literacy program. I voted—will you?
submitted by dzeijz
April 22, 2014
April 21, 2014
by Sean Yeh
April 21, 2014
April 20, 2014
by MonkeesFan