A man's library is a sort of harem. — Ralph Waldo Emerson
I have always imagined that Paradise would be a kind of library. — Jorge Luis Borges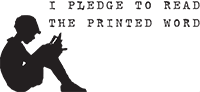 Contributors:
¿Quién es esa chica?
Okjol
| Bookporners Reading Recommendations |
Original and submitted posts
| List of Authors on Tumblr |
10 Books That Have Stayed With You |
on Facebook |
Bookish Artists on Tumblr |
Ask |
Submit
June 18, 2013
Fandom Bookmars!

Beth Yates created the series of Bookmark Buddies, the perfect way to show your fandom love.
April 9, 2013
March 12, 2013
Tardis-shaped bookshelf porn. You know you want it. I know I do.
February 28, 2013
Doctor Who River Song's Journal Necklace by Little Literature
January 4, 2013
December 27, 2012
Doctor Who Series 7 Promotional Stills » The Angels Take Manhattan 9/9
(via sdklghj-aslvksdnqwe)
November 30, 2012
(Source: morgenty, via vitanuovaa-deactivated20130316)
October 9, 2012
(Source: lonedaydreamer, via astraete)
September 24, 2011
August 24, 2011
(Source: theodd-ood)