A man's library is a sort of harem. — Ralph Waldo Emerson
I have always imagined that Paradise would be a kind of library. — Jorge Luis Borges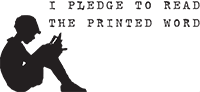 Contributors:
¿Quién es esa chica?
Okjol
| Bookporners Reading Recommendations |
Original and submitted posts
| List of Authors on Tumblr |
10 Books That Have Stayed With You |
on Facebook |
Bookish Artists on Tumblr |
Ask |
Submit
February 19, 2013
December 29, 2012
"Do not read, as children do, to amuse yourself, or like the ambitious, for the purpose of instruction. No, read in order to live."
— Gustave Flaubert
December 16, 2012
(via theunreadlibrarian)
November 30, 2012
" What's more delightful than an evening beside the fire with a nice bright lamp and a book, listening to the wind beating against the windows? I'm absolutely removed from the world at such times. The hours go by without my knowing it. Sitting there I'm wandering in countries I can see every detail of — I'm playing a role in the story I'm reading. I actually feel I'm the characters — I live and breathe with them. "

— Gustave Flaubert, Madame Bovary