A man's library is a sort of harem. — Ralph Waldo Emerson
I have always imagined that Paradise would be a kind of library. — Jorge Luis Borges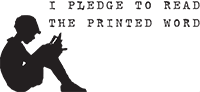 Contributors:
¿Quién es esa chica?
Okjol
| Bookporners Reading Recommendations |
Original and submitted posts
| List of Authors on Tumblr |
10 Books That Have Stayed With You |
on Facebook |
Bookish Artists on Tumblr |
Ask |
Submit
October 30, 2013
October 28, 2013
October 24, 2013
October 15, 2013
This year's All Hallow's Read posters by Introverted Wife

Plus images from the site to use as Facebook covers, etc.

Do you know which book you are giving this year?
(Source: allhallowsread.com)
October 8, 2013
Witch & Cauldron Bookends by knobcreekmetalarts on Tumblr
October 5, 2013
by 31daysofhaunts on Tumblr:

A portrait of one of the masters of horror, H.P. Lovecraft.
October 4, 2013
Sarah Evan's Nightmare Snatchers

The world can be a scary place, full of nightly noises, menacing monsters, and dreadful dreams. But not every monster wants to scare and terrify. With the help of a magical spell and an appetite for troubles, a monster can be your dearest friend.

Furry and fearless, friendly but ferocious, these Nightmare Snatchers® are the perfect journals for writing down and drawing out all that scares, frightens, and worries. You have only to recite the spell found at the front of the book, record your woes on their aged tea-stained pages, then mark your page with their long tail and your faithful friend the Nightmare Snatcher® will eat your fears away.



(all the info taken from Sarah Evans deviantART page)
October 3, 2013
October 30, 2012
(Source: 0ct0ber-31st)
October 30, 2012
Roger and Evelyn crack open the ancient tome they found on the skeleton in the walls. The curse of Thorncrest Manor is revealed to them in full!