A man's library is a sort of harem. — Ralph Waldo Emerson
I have always imagined that Paradise will be a kind of library. — Jorge Luis Borges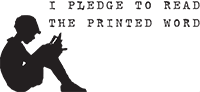 Contributors:
¿Quién es esa chica?
Okjol
| Bookporners Reading Recommendations |
Original and submitted posts
| List of Authors on Tumblr |
Ask
Submit
December 2, 2013
by 6kart
November 21, 2013
by nokeek
November 8, 2013
The librarian by Tatiks
October 28, 2013
October 23, 2013
spookyland: Artist Joey Spiotto, aka Joebot, draws films and videogames as the covers of children's books. Check it out
October 20, 2013
Roald Dahl by Skizzenbuch
October 15, 2013
This year's All Hallow's Read posters by Introverted Wife

Plus images from the site to use as Facebook covers, etc.

Do you know which book you are giving this year?
(Source: allhallowsread.com)
October 11, 2013
by Irkis
September 30, 2013
September 24, 2013