A man's library is a sort of harem. — Ralph Waldo Emerson
I have always imagined that Paradise will be a kind of library. — Jorge Luis Borges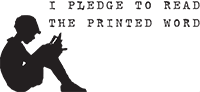 Contributors:
¿Quién es esa chica?
Okjol
| Bookporners Reading Recommendations |
Original and submitted posts
| List of Authors on Tumblr |
10 Books That Have Stayed With You |
Ask |
Submit
March 1, 2014
by Mike Le Roi
February 28, 2014
secondhand bookstore by Shinsuke Arai - dead-robot
February 19, 2014
Coriandoli's Bookstore from Michael Ende's The Neverending Story by Mauro Mazzara
February 19, 2014
February 17, 2014
for the Kids Need to Read foundation (support their work!)
February 4, 2014
A Little Night Reading by supersyndrome

on Tumblr http://supereefsel.tumblr.com/
February 1, 2014
by Ida Rentoul Outhwaite.

Submitted by fer1972 who featured her work in his blog as today's classic! Thank you fer1972!
January 31, 2014
January 30, 2014
The Dead Hand Used Bookstore
a comic by Amelia Davis
Click the link to read the comic and enjoy the amazing illustrations of Amelia Davis.

January 30, 2014
by Andrew Ferez