A man's library is a sort of harem. — Ralph Waldo Emerson
I have always imagined that Paradise would be a kind of library. — Jorge Luis Borges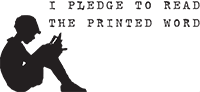 Contributors:
¿Quién es esa chica?
Okjol
| Bookporners Reading Recommendations |
Original and submitted posts
| List of Authors on Tumblr |
10 Books That Have Stayed With You |
on Facebook |
Bookish Artists on Tumblr |
Ask |
Submit
July 30, 2014
mmsenterprise: I loved the decor inside of Earl of Sandwich @ Downtown Disney, Anaheim, CA.
July 30, 2014
July 23, 2014
July 21, 2014
July 18, 2014
July 11, 2014
July 9, 2014
July 9, 2014
"Cram your head with characters and stories. Abuse your library privileges. Never stop looking at the world, and never stop reading to find out what sense other people have made of it. If people give you a hard time and tell you to get your nose out of a book, tell them you're working. Tell them it's research. Tell them to pipe down and leave you alone."
— Jennifer Weiner
July 6, 2014
July 5, 2014