A man's library is a sort of harem. — Ralph Waldo Emerson
I have always imagined that Paradise will be a kind of library. — Jorge Luis Borges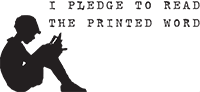 Contributors:
¿Quién es esa chica?
Okjol
Frá Sjó
Ask
Submit
March 28, 2013
(Source: amerika3)
November 14, 2012
(Source: intlmanofmystery)
October 8, 2012
All these for $10, from someone else's shelf to mine. The Call of the Wild has a cobweb on it.
March 6, 2012
El amor en los tiempos del cólera - Gabriel García Márquez.