A man's library is a sort of harem. — Ralph Waldo Emerson
I have always imagined that Paradise will be a kind of library. — Jorge Luis Borges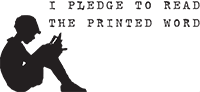 Contributors:
¿Quién es esa chica?
Okjol
Frá Sjó
Ask
Submit
April 1, 2013
Just me & my book.
March 23, 2013
(Source: kbs-was-here)
March 6, 2013
Beautiful design for Ray Bradbury's Fahrenheit 451.
(Source: fallofftheworld, via paperbackpinksy)
February 26, 2013
(Source: hellobunny86)
February 12, 2013
"The books are to remind us what asses and fool we are. They're Caeser's praetorian guard, whispering as the parade roars down the avenue, "Remember, Caeser, thou art mortal." Most of us can't rush around, talking to everyone, know all the cities of the world, we haven't time, money or that many friends. The things you're looking for, Montag, are in the world, but the only way the average chap will ever see ninety-nine per cent of them is in a book. Don't ask for guarantees. And don't look to be saved in any one thing, person, machine, or library. Do your own bit of saving, and if you drown, at least die knowing you were headed for shore."
— Ray Bradbury, Fahrenheit 451 (via we-live-and—breathe-words)
January 11, 2013
"There is more than one way to burn a book. And the world is full of people running about with lit matches."
— Ray Bradbury
December 15, 2012
~ (by ▼lokara▲)
December 8, 2012
"If you want to write, if you want to create, you must be the most sublime fool that God ever turned out and sent rambling. You must write every single day of your life. You must read dreadful dumb books and glorious books, and let them wrestle in beautiful fights inside your head, vulgar one moment, brilliant the next. You must lurk in libraries and climb the stacks like ladders to sniff books like perfumes and wear books like hats upon your crazy heads. I wish you a wrestling match with your Creative Muse that will last a lifetime. I wish craziness and foolishness and madness upon you. May you live with hysteria, and out of it make fine stories — science fiction or otherwise. Which finally means, may you be in love every day for the next 20,000 days. And out of that love, remake a world."
— Ray Bradbury
December 7, 2012
That's a fun and challenging game. @idealbookshelf #myidealbookshelf
November 26, 2012