A man's library is a sort of harem. — Ralph Waldo Emerson
I have always imagined that Paradise will be a kind of library. — Jorge Luis Borges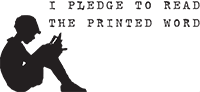 Contributors:
¿Quién es esa chica?
Okjol
Frá Sjó
Ask
Submit
May 19, 2013
May 18, 2013
Caturday by silverwing-sparrow

Happy Caturday, Bookporners!
May 18, 2013
(Source: zoomnews.es)
May 18, 2013
May 17, 2013
Mairisch Verlag bookspines and colourful bookmarks (mairisch is an independent publishing house based in Hamburg, Germany)
May 17, 2013
Reading portraits in Afghanistan by iconic photographer Steve McCurry.

McCurry manages to tell a story with each portrait. A story of the people, the time, the country.

He allows us to travel, discover and feel another reality.
May 17, 2013
Son has taken an early interest in T.S. Eliot
May 17, 2013
May 16, 2013
May 15, 2013
Books I bought on my Florida trip