A man's library is a sort of harem. — Ralph Waldo Emerson
I have always imagined that Paradise would be a kind of library. — Jorge Luis Borges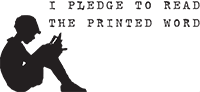 Contributors:
¿Quién es esa chica?
Okjol
| Bookporners Reading Recommendations |
Original and submitted posts
| List of Authors on Tumblr |
10 Books That Have Stayed With You |
on Facebook |
Bookish Artists on Tumblr |
Ask |
Submit
August 5, 2014
by ba.dev.
June 24, 2014
October 13, 2013
April 5, 2013
December 13, 2012
"I can never read all the books I want; I can never be all the people I want and live all the lives I want. I can never train myself in all the skills I want. And why do I want? I want to live and feel all the shades, tones and variations of mental and physical experience possible in life. And I am horribly limited."
— Sylvia Plath
November 29, 2012
(Source: contrariwiser)
November 13, 2012
October 19, 2012
October 12, 2012
This is a 'be jealous of all my old books' post, you're welcome.
(Source: dontsailawaybaby)
September 19, 2012
Black, white and red by Sean Vos on Flickr.