A man's library is a sort of harem. — Ralph Waldo Emerson
I have always imagined that Paradise will be a kind of library. — Jorge Luis Borges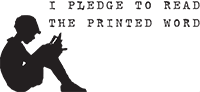 Contributors:
¿Quién es esa chica?
Okjol
| Bookporners Reading Recommendations |
Original and submitted posts
| List of Authors on Tumblr |
10 Books That Have Stayed With You |
Ask |
Submit
April 19, 2014
(Source: elina-illustrations)
April 18, 2014
Santiago Caruso, "THE LAMB", watercolor, tempera, golden paint and oil pastel over paper, 8 x 12 inches, on view at Last Rites Gallery through April 12th

Inquire on availability: info@lastritesgallery.com

View the entire show here: http://lastritesgallery.com/shows_lastrites_2014.php 
http://santiagocaruso.tumblr.com/
(via santiagocaruso)
April 18, 2014
by tezzer57:

Ponder on Flickr.


Farmers Market, Bryon Bay, NSW, Australia
April 18, 2014
by savantml:

Michale Leibow - The Hidden Stuff Between the Shelves 2013.  The Last Bookstore, Los Angeles, CA.
April 18, 2014
by soju-shots:

princess and the pea
(via tuatha)
April 17, 2014
Books have to be heavy by Svenja Sommer

http://wolkenhase.tumblr.com/ on tumblr
April 17, 2014
by rachaelbalsaitis:

Adventure!

Never underestimate just where a well-fed imagination will take you - best be prepared!
April 17, 2014
(Source: marcusabout)
April 17, 2014
by babalaas:

© reserved
April 17, 2014
by miguelalmagro:

Long time ago  I drew comics