A man's library is a sort of harem. — Ralph Waldo Emerson
I have always imagined that Paradise would be a kind of library. — Jorge Luis Borges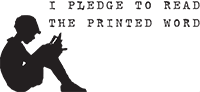 Contributors:
¿Quién es esa chica?
Okjol
| Bookporners Reading Recommendations |
Original and submitted posts
| List of Authors on Tumblr |
10 Books That Have Stayed With You |
on Facebook |
Bookish Artists on Tumblr |
Ask |
Submit
July 30, 2014
by jamigreenfield:

The library called, they want their book back.
July 30, 2014
by victongai:

Spellbound

Victo Ngai

For a article in Dension magazine about Fairy Tales and the changing nature of how these stories are told — from Grimm's tales, to the super-scrubbed happy Disney tales through to the darker popularity of shows like Breaking Bad now. Fairy tale expert Maria Tatar also discusses how some of the world's oldest tales help us navigate modern life.

Big thanks to Erin from Em Dash for this very interesting project!
July 30, 2014
July 29, 2014
July 29, 2014
(Source: marcusabout)
July 28, 2014
The old man and the sea - E. Hemingway (Chalkover 2014)

by Nicola Ferrarese tifacciounmurocosi on Tumblr
July 27, 2014
Fairy Tale Bookmark Set available in my Etsy and DaWanda online shop.
July 26, 2014
by photos91:

Biking and shopping for books in Jimbocho.
July 26, 2014
by louijover:

double fantasy

http://www.saatchiart.com/art/Drawing-double-fantasy/284005/2079067/view
July 26, 2014
Photographer: Alec Dawson
Models: Lucy & Azza
Unedited Fuji x100 photo
(Source: butpriestsdoitallthetime)