A man's library is a sort of harem. — Ralph Waldo Emerson
I have always imagined that Paradise would be a kind of library. — Jorge Luis Borges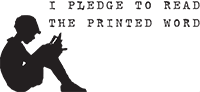 Contributors:
¿Quién es esa chica?
Okjol
| Bookporners Reading Recommendations |
Original and submitted posts
| List of Authors on Tumblr |
10 Books That Have Stayed With You |
on Facebook |
Bookish Artists on Tumblr |
Ask |
Submit
June 23, 2014
June 20, 2014
The perfect gifts for your favorite bookworm.

Handmade metal bookmarks, keychains, earrings and necklaces by Michelle Mach, writer, editor and former librarian.
June 16, 2014
March 22, 2014
More books… more coffe…

by Miguel Almagro. Artists on tumblr
January 26, 2014
November 21, 2013
by cloduy
November 15, 2013
lucycoats: Serious amounts of amazing 'money can't buy' book swag is on offer HERE: Name in Patrick Ness's new book? Dedication in Horrid Henry? Signed Neil Gaiman book? Proof of new 2014 Armistead Maupin? Manuscript critique by chief editor at Hot Key Books? Your face in a new Graphic Novel? Author visit for your school (worldwide)? All that and LOTS more to raise money for the Philippines disaster.

Please bid if you can at http://authorsforphilippines.wordpress.com/index-of-items/
October 11, 2013
October 6, 2013
October 4, 2013