A man's library is a sort of harem. — Ralph Waldo Emerson
I have always imagined that Paradise will be a kind of library. — Jorge Luis Borges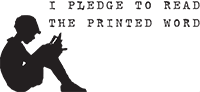 Contributors:
¿Quién es esa chica?
Okjol
| Bookporners Reading Recommendations |
Original and submitted posts
| List of Authors on Tumblr |
10 Books That Have Stayed With You |
Ask |
Submit
July 25, 2014
July 14, 2014
Nadine Gordimer for 21 Icons Project

Photographer and creator of documentary short films with South Africa's most special people, Adrian Steirn asked Nadine Gordimer about what it means to be a writer, and about her friend Nelson Mandela. 
July 11, 2014
by Cezary Zemis
July 8, 2014
June 29, 2014
James Dean reading James Whitcomb Riley.

submitted by fer1972.
June 26, 2014
June 14, 2014
June 13, 2014
The story of a girl who never saw her own face by Anina Bird
June 11, 2014
Cheryl Tiegs advertising for Montauk library 1982

Life Archive

submitted by les-sept-couleurs
June 10, 2014
Self-portrait with chat noir, Paris, 1925-1935

André Kertész

submitted by les-sept-couleurs