A man's library is a sort of harem. — Ralph Waldo Emerson
I have always imagined that Paradise would be a kind of library. — Jorge Luis Borges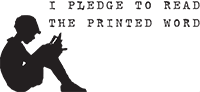 Contributors:
¿Quién es esa chica?
Okjol
| Bookporners Reading Recommendations |
Original and submitted posts
| List of Authors on Tumblr |
10 Books That Have Stayed With You |
on Facebook |
Bookish Artists on Tumblr |
Ask |
Submit
July 28, 2014
May 16, 2014
December 17, 2013
From my Hopper's Americans series. For more information see my website. 

Yoram Roth, Berlin
(Source: yoramroth)
November 15, 2013
lucycoats: Serious amounts of amazing 'money can't buy' book swag is on offer HERE: Name in Patrick Ness's new book? Dedication in Horrid Henry? Signed Neil Gaiman book? Proof of new 2014 Armistead Maupin? Manuscript critique by chief editor at Hot Key Books? Your face in a new Graphic Novel? Author visit for your school (worldwide)? All that and LOTS more to raise money for the Philippines disaster.

Please bid if you can at http://authorsforphilippines.wordpress.com/index-of-items/
August 8, 2013
April 30, 2013
Today I got such a cool set of books. It's the complete set of The New Book of Knowledge, an original print from 1959 loved for a cared for by a man since he got it when he was a child. Today I bought it from him and I am very excited to have it in my care.

"To inspire ambition, to stimulate the imagination, to provide the inquiring mind with accurate information told in an interesting style, and thus lead into broader fields of knowledge such is the purpose of this work."
April 13, 2013
March 3, 2013
Technically speaking, not a library - National Archives, Paris (France)
March 3, 2013
1899 gem from powell's bookstore in Portland. 
(Source: oddon3out)