A man's library is a sort of harem. — Ralph Waldo Emerson
I have always imagined that Paradise will be a kind of library. — Jorge Luis Borges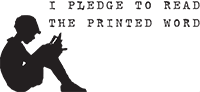 Contributors:
¿Quién es esa chica?
Okjol
| Bookporners Reading Recommendations |
Original and submitted posts
| List of Authors on Tumblr |
10 Books That Have Stayed With You |
Ask |
Submit
February 10, 2014
by David Denny
February 4, 2014
A Little Night Reading by supersyndrome

on Tumblr http://supereefsel.tumblr.com/
January 18, 2014
December 28, 2013
Pablo descansa sobre una pila de libros, mientras se colocan en la estantería… ¿será posible que crezca con imaginación…?

Pablo rests over a pile of books while they are placed on the shelf… Is it possible that he grows with imagination?

Foto: Rafa Ordóñez
November 4, 2013
November 4, 2013
run-mouse: The bookcases are full.  The shelves runneth over…
July 27, 2013
July 16, 2013
Books by Marguerite Gisele | Tumblr.
May 7, 2013
Blue Miniature Book Earrings by Coryographies