A man's library is a sort of harem. — Ralph Waldo Emerson
I have always imagined that Paradise would be a kind of library. — Jorge Luis Borges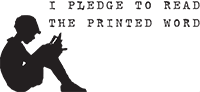 Contributors:
¿Quién es esa chica?
Okjol
| Bookporners Reading Recommendations |
Original and submitted posts
| List of Authors on Tumblr |
10 Books That Have Stayed With You |
on Facebook |
Bookish Artists on Tumblr |
Ask |
Submit
September 2, 2014
le storie scritte e le storie da scrivere by Stefania Giannuzzi
September 1, 2014
September 1, 2014
Submitting this to various book-themed blogs I know. Tab for a Cause is a Chrome extension (supported by John Green, by the way) that awards you a "heart" every time you open a new tab. You can then donate hearts to your choice of a handful of causes. Which is awesome enough. But this week, they are also donating to Room to Read for each person who joins! If you see this, please consider joining!

If you wanna use my recruitment code, use this url instead. http://tabforacause.org/?r=11041971&c=8 That gives me 250 extra hearts to donate, which is about 3-4 days worth. So that would be extra awesome of you.
September 1, 2014
September 1, 2014
September 1, 2014
August 31, 2014
"I have always been a reader; I have read at every stage of my life, and there has never been a time when reading was not my greatest joy. And yet I cannot pretend that the reading I have done in my adult years matches in its impact on my soul the reading I did as a child. I still believe in stories. I still forget myself when I am in the middle of a good book. Yet it is not the same. Books are, for me, it must be said, the most important thing; what I cannot forget is that there was a time when they were at once more banal and more essential than that. When I was a child, books were everything. And so there is in me, always, a nostalgic yearning for the lost pleasure of books. It is not a yearning that one ever expects to be fulfilled."
— Diane Setterfield, The Thirteenth Tale.