A man's library is a sort of harem. — Ralph Waldo Emerson
I have always imagined that Paradise would be a kind of library. — Jorge Luis Borges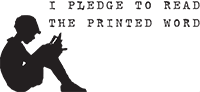 Contributors:
¿Quién es esa chica?
Okjol
| Bookporners Reading Recommendations |
Original and submitted posts
| List of Authors on Tumblr |
10 Books That Have Stayed With You |
on Facebook |
Bookish Artists on Tumblr |
Ask |
Submit
September 12, 2014
Fahrenheit 451 book sculpture by Jodi Harvey-Brow
September 11, 2014
"A truly good book teaches me better than to read it. I must soon lay it down, and commence living on its hint. What I began by reading, I must finish by acting."
— Henry David Thoreau
September 11, 2014
September 11, 2014
September 10, 2014
September 10, 2014
September 10, 2014
Something About Peonies

is a new YA fiction novel written by up and coming young author

Ellie Christene

. 119,362 words and 316 pages long, it tells the story of Cat Riddle, a not-so-typical teenage girl who goes through a pretty typical experience. 16-year-old Cat Riddle certainly isn't your typical teenager…
Ellie Christene talks a bit about what inspired her to write this novel:
In all honesty, I don't remember what inspired me to write Something About Peonies. I remember exactly when I came up with specific ideas for the book, but not the overall idea. I remember coming up with the main character's moms, and I kind of remember thinking about the book on a car ride, but that's it. The main character is Catherine (Cat) Riddle, who starts off as 16 in the beginning of the book and is 17 at the end. She deals with both Asperger's and Tourette's syndromes, as well as gay moms. So the whole book is about her being not normal but managing to fall in love, which is a very normal thing to do.

Something About Peonies by Ellie Christene, author on tumblr (everythingelsewasjustbackground).
September 10, 2014
September 10, 2014
"Books are the treasured wealth of the world and the fit inheritance of generations and nations."
— Henry David Thoreau, Walden
September 10, 2014
Proust by louveciennes.