A man's library is a sort of harem. — Ralph Waldo Emerson
I have always imagined that Paradise would be a kind of library. — Jorge Luis Borges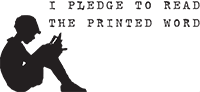 Contributors:
¿Quién es esa chica?
Okjol
| Bookporners Reading Recommendations |
Original and submitted posts
| List of Authors on Tumblr |
10 Books That Have Stayed With You |
on Facebook |
Bookish Artists on Tumblr |
Ask |
Submit
January 3, 2014
December 22, 2013
My Christmas Story
I wanted to share this story with you because each year I fight with marketing and media to hang on to my Christmas Spirit.
So I try to remember the good things, the things that matter.
So let me begin…
When my parents met, my mother's family wasn't happy at all with my father: he was an atheist, a Spanish Republican refugee and penniless.
After many conflicts, they finally agreed to let them date as a couple. It was a great victory for them and their love.
Christmas time came and my mother invited my father to spend the night of Christmas Eve with her family.
Dad must have been so nervous. His family never celebrated anything, not even birthdays, but he knew how other people celebrated.
He didn't had a nice suit or money to buy gifts. The only thing he had were his beloved books. A small collection of old and weary books that had had at least one previous owner.
So, my dad prepared for dinner with the matriarchs of my mother's family. Wearing his best clothes and the honest and bright smile that characterizes him.
They had dinner, toasted and then the time to exange gifts came.
My father gave each my grandmother and great grandmother a small package. They were surprised and unwraped the gifts.
My father had given each of them one his books, two of his most prized posessions.
Probably for them those were just odd presents but for my mother that was the moment when she reaffirmed that he was (and still is) the love of her life.
Hope you like this simple story. Wish you all a Merry Christmas.
Spanish version here.
January 4, 2013
The better portion of the haul this year:

Bringing Up The Bodies by Hilary Mantel
Marvel Comics: The Untold Story by Sean Howe
Theory of Prose by Victor Shklovsky
The Passage by Justin Cronin
and the B&N gift card to use in picking up one or two more items from the long list of wants 
December 25, 2012
Christmas reading! / Leyendo en Navidad! (ilustración de Raija Nokkala)
December 25, 2012
December 25, 2012
December 25, 2012
December 25, 2012
It's a bookporn Christmas. 
December 25, 2012
Merry Bookporn Christmas!
December 25, 2012
by zvaella