A man's library is a sort of harem. — Ralph Waldo Emerson
I have always imagined that Paradise would be a kind of library. — Jorge Luis Borges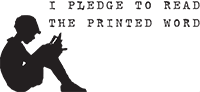 Contributors:
¿Quién es esa chica?
Okjol
| Bookporners Reading Recommendations |
Original and submitted posts
| List of Authors on Tumblr |
10 Books That Have Stayed With You |
on Facebook |
Bookish Artists on Tumblr |
Ask |
Submit
September 1, 2014
August 27, 2014
August 25, 2014
The Little Book of Hindu Deities

by Sanjay Patel (supervising animator and storyboard artist at Pixar Animation Studios) from Ghee Happy

With dozens of gods and goddesses (and one sacred stone), The Little Book of Hindu Deities is chock-full of monsters, demons, noble warriors, and divine divas. Find out why Ganesha has an elephant's head (his father cut it off!), why Kali, the Goddess of Time, is known as "The Black One" (she's a bit goth), and what Hare Krishna really means.
August 24, 2014
August 21, 2014
Edgar Allan Poe's 12 Tales of Terror by Juan Diego Prieto

"12 Tales of Terror by Edgar Allan Poe is an editorial and illustrative proposal for the most horrifying and meaningful stories of the author. The project develops from the essence of the writer and his stories, using the technique of collage as graphic language. Each tale included in this project has an opening illustration that introduces the audience into the story."
August 19, 2014
19th Century Author Biographies book cover series by Hilary Gaby

Charles Dickens, Fyodor Dostoyevsky, & Mark Twain

 

"The concept for this biographical book cover series was centered around the author's place of origin, and features elements that directly reference those places. A papercraft technique was used to create a three dimensional landscape scene which would enforce the idea of the author's setting and help achieve a sense of cohesiveness through out the series.

I chose to incorporate fences and other small icons to depict the author's life and to help illustrate what kind of environment these literary legends were exposed to and how that had direct influence on  some of the most famous stories in history."
August 10, 2014
August 4, 2014
August 1, 2014
July 22, 2014
Book lovers Ex Libris tote bag with a vintage 19th century illustration by Bonnie Bruno.