A man's library is a sort of harem. — Ralph Waldo Emerson
I have always imagined that Paradise will be a kind of library. — Jorge Luis Borges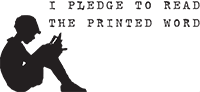 Contributors:
¿Quién es esa chica?
Okjol
| Bookporners Reading Recommendations |
Original and submitted posts
| List of Authors on Tumblr |
10 Books That Have Stayed With You |
Ask |
Submit
April 9, 2014
April 3, 2014
Mary Poppins coffee set by Monika Diamantopoulou
March 31, 2014
March 29, 2014
The Bike Shelf by Urban City Bike Shelves.

Bike shelves are made out of solid cherry and walnut woods. They are then stained and coated with natural wax. Serves as a unique way to mount your bike, which can be used as a book shelf to store whatever you want. Designed with a creative mind, these bike shelves are perfect for people who need to utilize their space in a standout way.
March 28, 2014
Alice in Wondeland dishware by Monika Diamantopoulou
March 10, 2014
Edgar Allan Poe coffee set, mug and cereal bowl dishware by Monika Diamantopoulou
November 7, 2013
rocketeam: My Ex-Libris with a Death's-head Hawkmoth