A man's library is a sort of harem. — Ralph Waldo Emerson
I have always imagined that Paradise would be a kind of library. — Jorge Luis Borges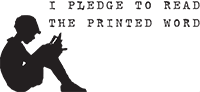 Contributors:
¿Quién es esa chica?
Okjol
| Bookporners Reading Recommendations |
Original and submitted posts
| List of Authors on Tumblr |
10 Books That Have Stayed With You |
on Facebook |
Bookish Artists on Tumblr |
Ask |
Submit
October 4, 2014
October 2, 2014
September 29, 2014
Tilt bookshelf by Obi Furniture.

Perfect for a desk!
September 24, 2014
September 17, 2014
September 16, 2014
September 7, 2014
Spineless Classics - A complete book on a poster.

Imagine a whole book on a single sheet. A bold art print on which, up close, you can read the full and complete text of your favourite classic work, right from "It was the best of times" to "a far, far greater thing".
September 1, 2014
August 27, 2014
August 25, 2014
The Little Book of Hindu Deities

by Sanjay Patel (supervising animator and storyboard artist at Pixar Animation Studios) from Ghee Happy

With dozens of gods and goddesses (and one sacred stone), The Little Book of Hindu Deities is chock-full of monsters, demons, noble warriors, and divine divas. Find out why Ganesha has an elephant's head (his father cut it off!), why Kali, the Goddess of Time, is known as "The Black One" (she's a bit goth), and what Hare Krishna really means.