A man's library is a sort of harem. — Ralph Waldo Emerson
I have always imagined that Paradise would be a kind of library. — Jorge Luis Borges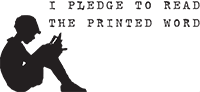 Contributors:
¿Quién es esa chica?
Okjol
| Bookporners Reading Recommendations |
Original and submitted posts
| List of Authors on Tumblr |
10 Books That Have Stayed With You |
on Facebook |
Bookish Artists on Tumblr |
Ask |
Submit
January 4, 2014
June 9, 2013
December 31, 2012
"May your coming year be filled with magic and dreams and good madness. I hope you read some fine books and kiss someone who thinks you're wonderful, and don't forget to make some art — write or draw or build or sing or live as only you can. And I hope, somewhere in the next year, you surprise yourself."
— Neil Gaiman
December 17, 2012
Maybe Freud will help me make sense of my dream world…

       While Romeo dreams of fields and bacon.