A man's library is a sort of harem. — Ralph Waldo Emerson
I have always imagined that Paradise will be a kind of library. — Jorge Luis Borges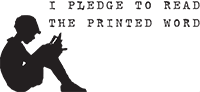 Contributors:
¿Quién es esa chica?
Okjol
Frá Sjó
Ask
Submit
May 5, 2013
German cover illustration for George Orwell's Nineteen Eighty-Four 
(via cherrylove)
March 22, 2013
March 13, 2013
This is my favorite book cover in the history of book covers. Can somebody please help me find online a trustworthy place where I can buy this covered version of the book? Please, thank you, and god bless. 
February 2, 2013
George Orwell's 1984.
(via i-left-these-words-unsaid)
(via rachanneee)
January 22, 2013
(Source: seraphic5)
January 9, 2013
(Source: foxxtailsoup)
January 8, 2013
From our colleagues in the UK, a bold new cover for George Orwell's 1984. (via Kottke)
December 21, 2012
(Source: mostafa7md)
December 17, 2012
Diamond Dogs by David Bowie.
Based on 1984 by George Orwell 
(Source: Spotify)