A man's library is a sort of harem. — Ralph Waldo Emerson
I have always imagined that Paradise will be a kind of library. — Jorge Luis Borges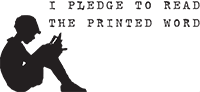 Contributors:
¿Quién es esa chica?
Okjol
Frá Sjó
Ask
Submit
February 3, 2013
January 23, 2013
(ilustración de Rachel Smythe)
January 10, 2013
(Source: josette-1)
January 4, 2013
December 25, 2012
Christmas reading! / Leyendo en Navidad! (ilustración de Raija Nokkala)
December 23, 2012
Merry Christmas, Feliz Navidad, Joyeux Noël, Feliz Natal…
Very Merry Yule 
(ilustración de Milena Jarjour)
December 17, 2012
 (Philip Maliavin -Russian,1869-1940-)
(Source: bibliolectors)
December 14, 2012
Snow, game and reading / Nieve, juego y lectura (ilustración de Will Terry)
December 7, 2012
Delicious! Bathroom with reading / Delicioso! Baño con lectura (ilustración de Kentaro Hisa)
November 28, 2012
"A book, like a journey, starts with inquisitiveness and ends with melancholy."
José Vasconcelos.
(Source: detectivegonzalez, via free-clementine)