A man's library is a sort of harem. — Ralph Waldo Emerson
I have always imagined that Paradise will be a kind of library. — Jorge Luis Borges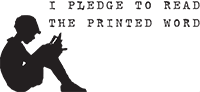 Contributors:
¿Quién es esa chica?
Okjol
Frá Sjó
Ask
Submit
January 24, 2013
January 22, 2013
(Source: hellobunny86)
January 21, 2013
"We are of opinion that instead of letting books grow moldy behind an iron grating, far from the vulgar gaze, it is better to let them wear out by being read."
— Jules Verne - Journey to the Center of the Earth
January 17, 2013
"After all, reading is arguably a far more creative and imaginative process than writing; when the reader creates emotion in their head, or the colors of the sky during the setting sun, or the smell of a warm summer's breeze on their face, they should reserve as much praise for themselves as they do for the writer - perhaps more."
— Jasper Fforde - The Well of Lost Plots
January 17, 2013
(Source: naenae70)
January 16, 2013
My philosopher examining the bibliophilic treasures he unearthed at The Ohio Bookstore — a glorious five story used bookstore.
January 16, 2013
"My library is an archive of longings."
— Susan Sontag (via lolitserica)
January 16, 2013
January 14, 2013
Look tumblr, I made a thing!