A man's library is a sort of harem. — Ralph Waldo Emerson
I have always imagined that Paradise would be a kind of library. — Jorge Luis Borges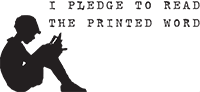 Contributors:
¿Quién es esa chica?
Okjol
| Bookporners Reading Recommendations |
Original and submitted posts
| List of Authors on Tumblr |
10 Books That Have Stayed With You |
on Facebook |
Bookish Artists on Tumblr |
Ask |
Submit
July 20, 2014
naviwing: I'm thinning out my book collection! These are Pocket University texts from 1925. They're quaint anthologies.
July 1, 2014
May 29, 2014
Old Leather Books— Thomas Love Peacock by Wyoming_Jackrabbit
May 28, 2014
May 16, 2014
May 3, 2014
May 1, 2014
hurricanetonks: A friend of mine gave this beauty to me: "Cours de littérature comparée", printed 1834
April 25, 2014
fer1972: I want to share you some old hard cover books that have stayed with me!

1. Robur The Conquerer by Jules Verne

2. Hamlet by William Shakespeare

3. From Poe to Simenon: An Antology of Detective and Mystery Tales

4. Extraordinary Tales by Edgar Allan Poe

5. Edgar Poe and Women by Edmond Jaloux

6. Dead Souls by Nikólai Gogol

7. Complete Works by Herman Melville

8. Decameron by Boccaccio
January 10, 2014
Old Books and Dust by Julia Presslauer