A man's library is a sort of harem. — Ralph Waldo Emerson
I have always imagined that Paradise will be a kind of library. — Jorge Luis Borges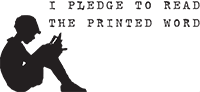 Contributors:
¿Quién es esa chica?
Okjol
| Bookporners Reading Recommendations |
Original and submitted posts
| List of Authors on Tumblr |
10 Books That Have Stayed With You |
Ask |
Submit
April 18, 2014
Meg by Cara O'Neal
April 17, 2014
Books have to be heavy by Svenja Sommer

http://wolkenhase.tumblr.com/ on tumblr
April 16, 2014
April 16, 2014
April 12, 2014
The Rhode Island Library Association presented their Tattooed Librarians of the Ocean State 2014 calendar (that's now sold out).

"Libraries are unique as they simultaneously foster the preservation of histories and traditions, while fighting censorship and fostering cutting-edge learning environments. Likewise, tattoos can also represent the preservation of history and resistance of the norm. The twelve librarians and library workers featured in this calendar represent just a few of the many working professionals who are proud of their career, their ink, and the stories they tell."

submitted by Fer1972.

Now Bookporn wants to know how many librarians are here on tumblr! Share your library portraits/selfies with us!
April 12, 2014
Untold Volumes by The Underworld on Flickr.
April 10, 2014
March 28, 2014
Marilyn Monroe

Photographer: Philippe Halsman, 1952

submitted by les-sept-couleurs
March 12, 2014
Two artists on tumblr need your support!
- Photographer Brad Sloan ( wbsloan on tumblr) made this kickstarter to help make his book Inceptualized Reality.
Here's a bit about the project:
A book of photography that explores architectural lines and their fascinating urban connections.

I've always had a fascination with architectural lines and how they interact with one another. In April of 2012, I visited Manhattan for the first time. I was immediately struck with the way that the modern metropolis skyline interacts and connects with everything around it. 
The images Sloan creates are mesmerizing.
Check his blog to see more of his work.
And if you can, please back his project.
- Illustrator and designer Audrey Benjaminsen ( audreybenjaminsen on tumblr) is part of this kickstarter with over 25 artists to create a hardcover art book.
Here's a bit about the project:
Over 25 Visual Development artists have collaborated their imagination and talent in order to bring you a 100 page, hardcover edition of Design Unscripted!  This art-book will give you access into the creative process and contains original ideas for many never before seen character and prop designs as well as environments, vehicles, storyboards and color-scripts.  
Watch this video to get an idea of Design Unscripted:
Please consider backing this project!
And please help by spreading the word too!