A man's library is a sort of harem. — Ralph Waldo Emerson
I have always imagined that Paradise will be a kind of library. — Jorge Luis Borges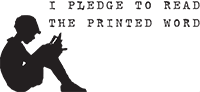 Contributors:
¿Quién es esa chica?
Okjol
| Bookporners Reading Recommendations |
Original and submitted posts
| List of Authors on Tumblr |
10 Books That Have Stayed With You |
Ask |
Submit
March 18, 2014
March 7, 2014
February 3, 2014
"
When you are old and grey and full of sleep,
And nodding by the fire, take down this book,
And slowly read, and dream of the soft look
Your eyes had once, and of their shadows deep;
How many loved your moments of glad grace,
And loved your beauty with love false or true,
But one man loved the pilgrim soul in you,
And loved the sorrows of your changing face;
And bending down beside the glowing bars,
Murmur, a little sadly, how Love fled
And paced upon the mountains overhead
And hid his face amid a crowd of stars.
"
— W. B. Yeats - When You Are Old
January 28, 2014
BAT EYES: The power of poetry explored in this ode to first love (and W. B. Yeats). 'Take down this book, And slowly read, and dream of the soft look'. 

Starring: Mia Morrissey as Bat Eyes, Ben James as Adam.

Director: Damien Power

Adapted by Jessica Bellamy and Damien Power 
January 25, 2014
"Why do I read?
I just can't help myself.
I read to learn and to grow, to laugh
and to be motivated.
I read to understand things I've never
been exposed to.
I read when I'm crabby, when I've just
said monumentally dumb things to the
people I love.
I read for strength to help me when I
feel broken, discouraged, and afraid.
I read when I'm angry at the whole
world.
I read when everything is going right.
I read to find hope.
I read because I'm made up not just of
skin and bones, of sights, feelings,
and a deep need for chocolate, but I'm
also made up of words.
Words describe my thoughts and what's
hidden in my heart.
Words are alive—when I've found a
story that I love, I read it again and
again, like playing a favorite song
over and over.
Reading isn't passive—I enter the
story with the characters, breathe
their air, feel their frustrations,
scream at them to stop when they're
about to do something stupid, cry with
them, laugh with them.
Reading for me, is spending time with a
friend.
A book is a friend.
You can never have too many."
— Gary Paulsen - Shelf Life: Stories by the Book
January 14, 2014
"
where it says "he escaped from himself as
from a prison cell" (page such and such
verse whatever)
it could say "the tiny tree grew and grew"
or some other error
as long as it has rhythm
is certain or true
and so sidney west wrote these lines that
will never love him
in the freshness of a dry dark well
on top of a world blinded by sun
or alone alone alone
where it says "if we were or we were/as
human faces"
(page such and such verse whatever) it is
as the ox that ploughed there
not rotted by pain or fury
disguising much of the time in solitude
ah sidney west! here ends (hopefully)
your wretched aspimos leanings
what tiny bit round this man
and what animal within
all those birds that knew how to invent ate
sidney west
ponina and nino especially
greedy from their state and passion
open sweet as useless
where it says "one day the following happened"
(page such and such verse whatever)
sadness had happened by before
and that is fatal for the poet
or it was fatal for west's pain
hey tiny bugs horseflies brilliances greeting
in the Oak's cemetery!
there they put sidney west let him sleep
where it says "let him sleep sleep sleep" (page
such and such verse whatever)
it should say let him sleep and nothing more
and so when west with his first love
headed for sidney sailor
sidney the last in history
spun with west as a water wheel's donkey
let him sleep and nothing more should be said
(page such and such verse whatever)
and nothing more let him sleep and nothing
more
let him sleep sleep sleep
let sidney west sleep sleep sleep
until his feets grow wings please
let sidney west sleep
until we love one another well
let him sleep sleep sleep
the father breathes it if he really wants to
breath it
here they lie as before
but let him sleep sleep sleep
let sidney west sleep
where it says "curtains with birds so morning
enters singing" (page such and such verse
whatever)
sidney west should turn himself off in the
morning
let him sleep sleep sleep
"
—
Juan Gelman - Final Poem [errata]
Gelman wrote The Poems of Sidney West who was supposed to be an american poet who's work Gelman was translating.
Source, more poems and translators notes here.
January 14, 2014
CACTI magazine is now accepting submissions for issue two: aka the postcard issue!

What does this mean? What do we want?  It's simple:



EXPLANATION: all accepted work will be published in the form of a bundle of postcards.  Included will be a chapbook as well as a virtual code for other content.
WHO: you, the artists, the banshees among us, and the upstream salmon
WHAT: your visual art, your poetry, your flash fiction, anything that we can fit on the back of a postcard. Hell, even if we can't, even if it's an audio file of you humming to your goldfish or a video of you dancing with a garden gnome, we want it. We want your stories for the chapbook that will be coupled with the postcards. Please shock us, please turn our eyeballs inside out so that all we can see after reading your stuff is the inside of our own head.
WHEN: between today and May 6th 2014

 click here for submission guidelines

(photograph copyright Anna Marcell ; issue two visual art contributor)
November 26, 2013
"If I read a book and it makes my whole body so cold no fire can warm me, I know that is poetry. If I feel physically as if the top of my head were taken off, I know that is poetry. These are the only ways I know it. Is there any other way?"
— Emily Dickinson
August 14, 2013
Sunithi Writes
Hello Bookporners!
Today, I want to introduce to you to Sunithi (ideasinlife), a fellow tumblrer, writer and poet.
Sunithi has published a poetry book entitled Die Seele des Lebens (The Soul of Life) and is currently working on a poetry book in English.
She has shared with us two of her favorite poems from her next book and one from Die Seele des Lebens. I'm sure you'll enjoy them.
When everything ends

Preciousness was born in sadness,
caused by a missing family member.

She received colors she could not see,
melodies she did not know how to play.

The soul kisses in our shower,
we're destructive.

Against our freedom of no love.

Today we are in grief,
at our grave,
we burry our relationship,
our story,
our fairy-tale with no happy end.

*

Up for new chances 

The past is oh so present,
but what she's living now,
with another person,
is not to compare.

Grateful is possible, 
only trough his sweetest smile,
eyes deep as the sea,
his soul,
from a beauty beyond any imagination.

First time in life,
where luck is not a moment's rush.

*

Verlorene Träume der Liebenden

Lass es überfluten,
denn längst schon liegen unsere Träume,
auf dem Meeresgrund.
Als wir uns fanden und dachten
wir brauchen sie nun nicht mehr,
versenkten wir sie.
Die Reife fehlte uns,
wir waren dem mitnichten gewachsen,
unser Handeln lächerlich
und unerklärlich.
Nun taucht jeder für sich,
um die Träume zu finden,
dir wir einst aufgaben.
Voller Reue und ohne Luft.
Verschollen auf unbestimmt.
Support Sunithi, support new authors, support poetry!
Die Seele des Lebens: Buch.ch | Amazon