A man's library is a sort of harem. — Ralph Waldo Emerson
I have always imagined that Paradise will be a kind of library. — Jorge Luis Borges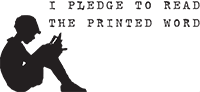 Contributors:
¿Quién es esa chica?
Okjol
| Bookporners Reading Recommendations |
Original and submitted posts
| List of Authors on Tumblr |
10 Books That Have Stayed With You |
Ask |
Submit
April 18, 2014
Meg by Cara O'Neal
April 16, 2014
April 15, 2014
by Hailey Jones
April 12, 2014
The Rhode Island Library Association presented their Tattooed Librarians of the Ocean State 2014 calendar (that's now sold out).

"Libraries are unique as they simultaneously foster the preservation of histories and traditions, while fighting censorship and fostering cutting-edge learning environments. Likewise, tattoos can also represent the preservation of history and resistance of the norm. The twelve librarians and library workers featured in this calendar represent just a few of the many working professionals who are proud of their career, their ink, and the stories they tell."

submitted by Fer1972.

Now Bookporn wants to know how many librarians are here on tumblr! Share your library portraits/selfies with us!
April 12, 2014
by jayxxbe
April 10, 2014
April 10, 2014
April 7, 2014