A man's library is a sort of harem. — Ralph Waldo Emerson
I have always imagined that Paradise would be a kind of library. — Jorge Luis Borges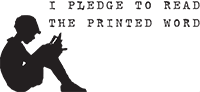 Contributors:
¿Quién es esa chica?
Okjol
| Bookporners Reading Recommendations |
Original and submitted posts
| List of Authors on Tumblr |
10 Books That Have Stayed With You |
on Facebook |
Bookish Artists on Tumblr |
Ask |
Submit
August 10, 2013
August 9, 2013
August 8, 2013
July 1, 2013
April 18, 2013
"A book is a gift you can open again and again."
— Garrison Keillor (via inducox)
April 3, 2013
Books let us into their souls and lay open to us the secrets of our own. ~William Hazlitt by Boy_Wonder on Flickr.
March 15, 2013
(Source: van-gogh-to-helloween, via sin-azucar)
March 4, 2013
February 25, 2013
"If there's a book you really want to read but it hasn't been written yet, then you must write it." - Toni Morrison by Boy_Wonder on Flickr.
February 21, 2013
Ideally a book would have no order to it, and the reader would have to discover his own - Mark Twain by Boy_Wonder on Flickr.