A man's library is a sort of harem. — Ralph Waldo Emerson
I have always imagined that Paradise will be a kind of library. — Jorge Luis Borges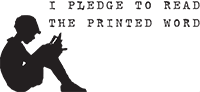 Contributors:
¿Quién es esa chica?
Okjol
| Bookporners Reading Recommendations |
Original and submitted posts
| List of Authors on Tumblr |
10 Books That Have Stayed With You |
Ask |
Submit
March 7, 2014
March 3, 2014
"There's nothing wrong with reading a book you love over and over. When you do, the words get inside you, become a part of you, in a way that words in a book you've read only once can't."
— Gail Carson Levine, Writing Magic: Creating Stories that Fly.
February 21, 2014
Itinerant performance by Chiara Trevisan of micro readings and conversations for one listener at the time. One bicycle, two seats, one cart full of books, three ideal itineraries that include some of the books of the Giralibro di San Salvario. For one listener at the time, original catalogs are available from which one of the pages selected by the Reader can be chosen.

Words, emotions, fragments of text for a singular taste, in every sense.

Thanks to journeytoixtlan for the translation!
February 10, 2014
"Why can't people just sit and read books and be nice to each other?"
— David Baldacci, The Camel Club
February 7, 2014
Bookporn List of Authors on Tumblr | UPDATED!
Hello, Bookporners!
Our list of Authors on Tumblr has been updated. We love how it keeps growing!
Check it out and dicover new books and new authors like: La Sunithi, ideasinlife on tumblr, C.H. Ashton, soldelbarra on tumblr,  Rachel Spivey, happiness-in-the.blues and rspiveylit on tumblr, Morgan Bauman, moyaofthemist on tumblr, Barnabas Smith, vagabondoctrine on tumblr, Jamie Bazua, guilty-beauty-love on tumblr, S. L. Shelton, wolfewriter on tumblr, David Bridger, davidbridger on tumblr, Laura J. W. Ryan, laurajwryan on tumblr, Megan Crewe, megancrewe on tumblr, Julie K. Rose, juliekrose on tumblr, Lauren Dane, authorlaurendane on tumblr, Terra Elan McVoy, terraelan on tumblr, Christina Escamilla, escaphilia on tumblr, LL Lemcke, dancingassassin on tumblr, Adam Gallardo, thelonliestmonk on tumblr, Max Kirin, maxkirin on Tumblr, Michael Gross, proseandpassion on tumblr, Antonio Jiménez-Ruiz, antoniojimenez-ruiz on tumblr, Agustin Guerrero, agustinguerrero3 on tumblr and Joelle D. Haskell, mochakimono on tumblr.
Remember you can always access the list on our blog:
IMPORTANT NOTICE: We know Neil Gaiman and John Green are on Tumblr, everyone knows that! But our list is for authors that want to be in it and for you to discover new books.
January 30, 2014
January 25, 2014
"Why do I read?
I just can't help myself.
I read to learn and to grow, to laugh
and to be motivated.
I read to understand things I've never
been exposed to.
I read when I'm crabby, when I've just
said monumentally dumb things to the
people I love.
I read for strength to help me when I
feel broken, discouraged, and afraid.
I read when I'm angry at the whole
world.
I read when everything is going right.
I read to find hope.
I read because I'm made up not just of
skin and bones, of sights, feelings,
and a deep need for chocolate, but I'm
also made up of words.
Words describe my thoughts and what's
hidden in my heart.
Words are alive—when I've found a
story that I love, I read it again and
again, like playing a favorite song
over and over.
Reading isn't passive—I enter the
story with the characters, breathe
their air, feel their frustrations,
scream at them to stop when they're
about to do something stupid, cry with
them, laugh with them.
Reading for me, is spending time with a
friend.
A book is a friend.
You can never have too many."
— Gary Paulsen - Shelf Life: Stories by the Book
January 12, 2014
A Dangerous Read by Fiction Chick