A man's library is a sort of harem. — Ralph Waldo Emerson
I have always imagined that Paradise will be a kind of library. — Jorge Luis Borges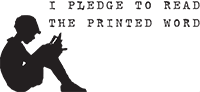 Contributors:
¿Quién es esa chica?
Okjol
| Bookporners Reading Recommendations |
Original and submitted posts
| List of Authors on Tumblr |
Ask
Submit
October 29, 2013
October 22, 2013
"All the books we own, both read and unread, are the fullest expression of self we have at our disposal. … But with each passing year, and with each whimsical purchase, our libraries become more and more able to articulate who we are, whether we read the books or not."
— Nick Hornby - The Poysyllabic Spree
October 19, 2013
"There are books full of great writing that don't have very good stories. Read sometimes for the story… don't be like the book-snobs who won't do that. Read sometimes for the words—the language. Don't be like the play-it-safers who won't do that. But when you find a book that has both a good story and good words, treasure that book."
— Stephen King
October 17, 2013
"A good bookshop is just a genteel Black Hole that knows how to read."
— Terry Pratchett - Guards! Guards!
October 5, 2013
July 1, 2013
April 24, 2013
April 23, 2013
(Source: juntadeandalucia.es)
March 18, 2013
A Good Man is Hard to Find, read by Flannery O'Connor

The famed writer's only recorded reading, from the Criterion Collection disc of "Wise Blood"
(via sadventriloquist)
March 14, 2013
(Source: anqis)