A man's library is a sort of harem. — Ralph Waldo Emerson
I have always imagined that Paradise would be a kind of library. — Jorge Luis Borges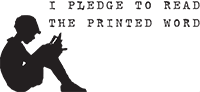 Contributors:
¿Quién es esa chica?
Okjol
| Bookporners Reading Recommendations |
Original and submitted posts
| List of Authors on Tumblr |
10 Books That Have Stayed With You |
on Facebook |
Bookish Artists on Tumblr |
Ask |
Submit
September 24, 2014
Some of Edward Gorey's bookporn illustrations.
September 18, 2014
by Sean Yeh
September 13, 2014
by Ragne Gjengedal.
September 1, 2014
Submitting this to various book-themed blogs I know. Tab for a Cause is a Chrome extension (supported by John Green, by the way) that awards you a "heart" every time you open a new tab. You can then donate hearts to your choice of a handful of causes. Which is awesome enough. But this week, they are also donating to Room to Read for each person who joins! If you see this, please consider joining!

If you wanna use my recruitment code, use this url instead. http://tabforacause.org/?r=11041971&c=8 That gives me 250 extra hearts to donate, which is about 3-4 days worth. So that would be extra awesome of you.
August 24, 2014
"I often hear people say that they read to escape reality, but I believe that what they're really doing is reading to find reason for hope, to find strength. While a bad book leaves readers with a sense of hopelessness and despair, a good novel, through stories of values realized, of wrongs righted, can bring to readers a connection to the wonder of life. A good novel shows how life can and ought to be lived. It not only entertains but energizes and uplifts readers."
— Terry Goodkind
August 22, 2014
"Woke up this morning with a terrific urge to lie in bed all day and read."
—
Raymond Carver
(or what you should be able to tell your boss instead of calling in sick)
August 22, 2014
August 7, 2014
"Read not to contradict and confute; nor to believe and take for granted; nor to find talk and discourse; but to weigh and consider. Some books are to be tasted, others to be swallowed, and some few to be chewed and digested: that is, some books are to be read only in parts, others to be read, but not curiously, and some few to be read wholly, and with diligence and attention."
— Francis Bacon
August 6, 2014
So many books, so little time.
August 3, 2014
"Anyway—because we are readers, we don't have to wait for some communications executive to decide what we should think about next—and how we should think about it. We can fill our heads with anything from aardvarks to zucchinis—at any time of night or day."
— Kurt Vonnegut, Palm Sunday: An Autobiographical Collage.