A man's library is a sort of harem. — Ralph Waldo Emerson
I have always imagined that Paradise would be a kind of library. — Jorge Luis Borges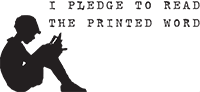 Contributors:
¿Quién es esa chica?
Okjol
| Bookporners Reading Recommendations |
Original and submitted posts
| List of Authors on Tumblr |
10 Books That Have Stayed With You |
on Facebook |
Bookish Artists on Tumblr |
Ask |
Submit
July 12, 2014
"I read poetry to save time."
— Marilyn Monroe
July 9, 2014
"Cram your head with characters and stories. Abuse your library privileges. Never stop looking at the world, and never stop reading to find out what sense other people have made of it. If people give you a hard time and tell you to get your nose out of a book, tell them you're working. Tell them it's research. Tell them to pipe down and leave you alone."
— Jennifer Weiner
July 4, 2014
by Sean Yeh
June 22, 2014
June 20, 2014
The perfect gifts for your favorite bookworm.

Handmade metal bookmarks, keychains, earrings and necklaces by Michelle Mach, writer, editor and former librarian.
June 17, 2014
June 6, 2014
"Life is a book, and there are a thousand pages I have not read. I would read them together with you, as many as I can, before I die."
— Cassandra Clare, Clockwork Princess.
May 18, 2014
April 22, 2014
Help Them Read Org
Just by voting for your favorite children's book at www.helpthemread.org, you can place a book in the hands of a child! For every vote, Scholastic will donate a book to a Barbara Bush Foundation for Family Literacy program. I voted—will you?
submitted by dzeijz
April 11, 2014
"Which of us has not felt that the character we are reading in the printed page is more real than the person standing beside us?"
— Cornelia Funke