A man's library is a sort of harem. — Ralph Waldo Emerson
I have always imagined that Paradise would be a kind of library. — Jorge Luis Borges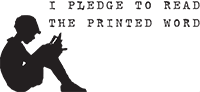 Contributors:
¿Quién es esa chica?
Okjol
| Bookporners Reading Recommendations |
Original and submitted posts
| List of Authors on Tumblr |
10 Books That Have Stayed With You |
on Facebook |
Bookish Artists on Tumblr |
Ask |
Submit
July 4, 2014
by Sean Yeh
June 22, 2014
June 20, 2014
The perfect gifts for your favorite bookworm.

Handmade metal bookmarks, keychains, earrings and necklaces by Michelle Mach, writer, editor and former librarian.
June 17, 2014
June 6, 2014
"Life is a book, and there are a thousand pages I have not read. I would read them together with you, as many as I can, before I die."
— Cassandra Clare, Clockwork Princess.
May 18, 2014
April 22, 2014
Help Them Read Org
Just by voting for your favorite children's book at www.helpthemread.org, you can place a book in the hands of a child! For every vote, Scholastic will donate a book to a Barbara Bush Foundation for Family Literacy program. I voted—will you?
submitted by dzeijz
April 11, 2014
"Which of us has not felt that the character we are reading in the printed page is more real than the person standing beside us?"
— Cornelia Funke
April 10, 2014
"Reading is everything. Reading makes me feel like I've accomplished something, learned something, become a better person. Reading makes me smarter. Reading gives me something to talk about later on. Reading is the unbelievably healthy way my attention deficit disorder medicates itself. Reading is escape, and the opposite of escape; it's a way to make contact with reality after a day of making things up, and it's a way of making contact with someone else's imagination after a day that's all too real. Reading is grist. Reading is bliss."
— Nora Ephron, I Feel Bad About My Neck: And Other Thoughts on Being a Woman.
April 7, 2014
"Books are finite, sexual encounters are finite, but the desire to read and to fuck is infinite; it surpasses our own deaths, our fears, our hopes for peace."
— Roberto Bolaño