A man's library is a sort of harem. — Ralph Waldo Emerson
I have always imagined that Paradise would be a kind of library. — Jorge Luis Borges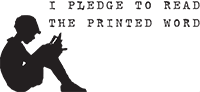 Contributors:
¿Quién es esa chica?
Okjol
| Bookporners Reading Recommendations |
Original and submitted posts
| List of Authors on Tumblr |
10 Books That Have Stayed With You |
on Facebook |
Bookish Artists on Tumblr |
Ask |
Submit
October 18, 2014
October 17, 2014
October 11, 2014
loneleopard said: Night Shift by Stephen King. It's a collection of his short stories, including Children of The Corn. Stephen King has that way with words where they slowly worm their way into your brain sending shivers down your spine because the stories all seem a little TOO real. He forces you to look at the simple, everyday world around you a little differently in a dark way, even long after you've set the book down. I just love it, he's a bone chilling master storyteller no doubt.
Stephen King is a master when it comes to scary readings =D
October 11, 2014
When I read Carl Honoré's In Praise of Slowness, my life changed. Thanks to him, I discovered the Slow Movement and a different way to live.
Now, again thanks to him, I discovered this!
How it all began:
"I would describe myself as an avid reader (ex literature grad), but one day I realised that I embarrassingly couldn't think of the last time I'd actually read a book cover to cover.
I bought The Luminaries but I hadn't even got past the prologue. I've got novels with spines unbroken clogging my bookshelf. I'm too busy, or online checking my emails or Facebook, or fall asleep after the first few paragraphs… The more I talked to other people that missed reading, I found I wasn't alone.
I was discovering the lost generation of book lovers. Are you out there?
I'd heard of Slow Food and Slow Travel, but the Slow Reading movement was a new one on me until I started researching it. It takes the idea that when we slow down and read a book, we can gain real benefits.
A recent UK study showed that just six minutes of reading can reduce stress levels by two thirds (more than listening to music or having a cup of tea).
Immersing yourself in someone else's story can help your skills of empathy. Reading aids your spelling and vocabulary (is the online Thesaurus your friend? It is mine). And in our digitally overwhelming times, we train ourselves to skim and scan, rather than really read. I think of it like a holiday for your head.
So I started reading again – and it was great. But I always think that things are more fun when you share it with others. And, like a yoga class, you're more likely to do it when you have it locked in the diary.
The idea of the Slow Reading Club is to create a cosy, quiet, weekly social where people bring their books, grab a drink or a bite, read for an hour, then head home or stay for a chat together".
Photographs by Pauline Lévêque. Model: Paige Shand.
October 11, 2014
probablyoffended said: The scariest book I've read would be The Devouring by Simon Holt. He does a really good job of exposing your childhood fears and forces you to realize no one is as fearless as they think. Very good read and its not too long!
Ok, The Devouring is going to my to-read list!
October 11, 2014
October 7, 2014
Christopher Walken reading Maurice Sendak's Where the Wild Things Are.
October 2, 2014
October 2, 2014
October 1, 2014
"How many a man has dated a new era in his life from the reading of a book."
— Henry David Thoreau