A man's library is a sort of harem. — Ralph Waldo Emerson
I have always imagined that Paradise will be a kind of library. — Jorge Luis Borges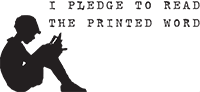 Contributors:
¿Quién es esa chica?
Okjol
| Bookporners Reading Recommendations |
Original and submitted posts
| List of Authors on Tumblr |
Ask
Submit
July 16, 2013
Science Fiction on the bookshelf of barnsburntdownnow
January 22, 2013
This is my victory feast atop the disemboweled corpses of my midterms. 

The books are amazing. As LoA guarantees great printing quality and durable hardbacks, I am absolutely ecstatic about the dust jacket design and the novels themselves. All nine of them have been written between 1953 and 1958. I saw them before only as yellow-paged paperbacks from the 80s.    
(Source: mariusgaaazzh)
January 13, 2013
January 4, 2013
November 7, 2012
(Source: myjetpack)
October 23, 2012
Epic Bradbury. Includes the classic - 'A Sound of Thunder' 
August 23, 2011
Ray Bradbury by jovike on Flickr.