A man's library is a sort of harem. — Ralph Waldo Emerson
I have always imagined that Paradise will be a kind of library. — Jorge Luis Borges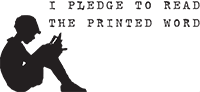 Contributors:
¿Quién es esa chica?
Okjol
| Bookporners Reading Recommendations |
Original and submitted posts
| List of Authors on Tumblr |
10 Books That Have Stayed With You |
Ask |
Submit
July 20, 2014
naviwing: I'm thinning out my book collection! These are Pocket University texts from 1925. They're quaint anthologies.
July 20, 2014
July 20, 2014
nhornby: Favorite Bookstore, Heartwood Books, Charlottesville, Va, 2014
July 18, 2014
Another nook at Grey Matter Books Amherst MA

Photo Jeff Frazier

 "A room without books is like a body without a soul." ~ Marcus Tullius Cicero

Submitted by artbeautymoto.
July 16, 2014
Uno, Nessuno e Centomila - Luigi Pirandello - (CHALKOVER 2014)
by Nicola Ferrarese, tifacciounmurocosi on tumblr.
July 13, 2014
booksandchurches: Ten more books that have stayed with me, reading and books edition:

1. Nicholson Baker—Double Fold
2. Lewis Buzbee—The Yellow-Lighted Bookshop
3. Lionel Casson—Libraries in the Ancient World
4. Cathy Davidson—Reading in America
5. Estelle Ellis, Caroline Seebohm, Christopher Sykes—At Home with Books 
6. Alberto Manguel—A History of Reading
7. Alberto Manguel—Into the Looking-Glass Wood
8. Henry Petroski—The Book on the Bookshelf
9. Ezra Pound—ABC of Reading
10. Daniel Berkeley Updike—The Well-Made Book
July 13, 2014
petrichorelmosolyodni: Madam Pince understands.

(Harry Potter and the Half-Blood Prince.)
July 8, 2014
spiderwebsandteacups: All the books I am currently reading (and loving!)
July 7, 2014
Le Petit Prince - Antoine de Saint-Exupéry (Chalkover 2014)

by Nicola Ferrarese, tifacciounmurocosi on tumblr.
July 6, 2014
jasonrubicon: Statue of a girl reading in Conway, AR