A man's library is a sort of harem. — Ralph Waldo Emerson
I have always imagined that Paradise would be a kind of library. — Jorge Luis Borges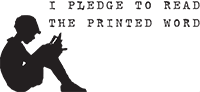 Contributors:
¿Quién es esa chica?
Okjol
| Bookporners Reading Recommendations |
Original and submitted posts
| List of Authors on Tumblr |
10 Books That Have Stayed With You |
on Facebook |
Bookish Artists on Tumblr |
Ask |
Submit
October 17, 2014
mhplanet: The 'Out of Print' section
October 16, 2014
"If one cannot enjoy reading a book over and over again, there is no use in reading it at all."
— Oscar Wilde
October 3, 2014
Eulalie: Original handwriting by Edgar Allan Poe in 1845.

Submitted by our dear friend fer1972
October 1, 2014
"How many a man has dated a new era in his life from the reading of a book."
— Henry David Thoreau
September 30, 2014
A King Penguin Book, 1948

"In the first World War, the kilted regiments created havoc amongst the enemy, and the Scot was more flattered than surprised to find the Germans had nicknamed the famous 51st Highland Division 'the Ladies from Hell'."
September 30, 2014
mojomojomojomojo:This is a stamp from an ex-library book that I bought in Leeds (England), the book is a 1966 copy of 'The Selected Letters Of Dylan Thomas', it had only been borrowed from the library once!
September 29, 2014
discoisgenetic: "Winning words with a lucky ring" Homer's Odyssey, Book II (Trans. Robert Fagles)
September 28, 2014
mhplanet: Old books outside the Dog Shop 2:

'A Capful O' Nails' (1896) with WH Smith Subscription Library sticker
September 23, 2014
In September, there is nothing like an afternoon in a sunny room, with a good book and some tea.