A man's library is a sort of harem. — Ralph Waldo Emerson
I have always imagined that Paradise would be a kind of library. — Jorge Luis Borges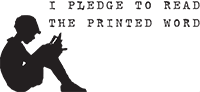 Contributors:
¿Quién es esa chica?
Okjol
| Bookporners Reading Recommendations |
Original and submitted posts
| List of Authors on Tumblr |
10 Books That Have Stayed With You |
on Facebook |
Bookish Artists on Tumblr |
Ask |
Submit
August 26, 2014
August 26, 2014
fer1972: Mis Libros de Cortázar. Falta los premios, libro que compré después de esta foto…
August 26, 2014
petrichorelmosolyodni: I have this little book in which I write al my favourite quotes.
I have one too!
Does anyone else do this?
August 25, 2014
I know, perhaps I shouldn't be doing this. But that book is EPIC. 

Tomorrow in the battle think on me, by Javier Márias
August 21, 2014
August 17, 2014
petrichorelmosolyodni: Reading in the park.

Salem's Lot, Stephen King.
August 12, 2014
Robin Williams in One Hour Photo (Mark Romanek, 2002)

submitted by poldoyovsky
August 9, 2014
nhornby: At the beach with Junot Díaz.
August 6, 2014
The Wonderful Wizard of Oz - L.Frank Baum (Chalkover 2014)

by Nicola Ferrarese tifacciounmurocosi on Tumblr
August 3, 2014
thenightingaletune: Literary Leaning Tower