A man's library is a sort of harem. — Ralph Waldo Emerson
I have always imagined that Paradise will be a kind of library. — Jorge Luis Borges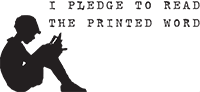 Contributors:
¿Quién es esa chica?
Okjol
Frá Sjó
Ask
Submit
February 11, 2013
"A View from the Bridge," by Arthur Miller
February 7, 2013
She's reading "Jitterbug Perfume," by Tom Robbins. He's reading "Memoirs of a Geisha," by Arthur Golden

Jitterbug Perfume: Borrow I Read
January 27, 2013
"The New Year's Party," by R.L. Stine
January 6, 2013
"Snow Falling on Cedars," by David Guterson
December 23, 2012
"The Fellowship of the Ring," by J.R.R. Tolkien
December 6, 2012
(Source: blanketcity)
October 3, 2012
September 7, 2012
sin título by Camilla Soares on Flickr.
August 28, 2011
Script Readers (by Sven Loach on a break- laptop died :()
August 28, 2011
People of London (by Elliott Steel)