A man's library is a sort of harem. — Ralph Waldo Emerson
I have always imagined that Paradise would be a kind of library. — Jorge Luis Borges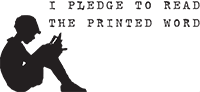 Contributors:
¿Quién es esa chica?
Okjol
| Bookporners Reading Recommendations |
Original and submitted posts
| List of Authors on Tumblr |
10 Books That Have Stayed With You |
on Facebook |
Bookish Artists on Tumblr |
Ask |
Submit
August 18, 2014
The Three Cat's-Eye Rings: a tale of the pursuit of the Khalifa, etc' via The British Library 
August 5, 2014
The Fellowship of the Ring, J. R. R. Tolkien Vintage 70s Paperback by brykmantra.
August 3, 2014
Image taken from page 230 of 'Lilliput Lyrics

Edited by R. Brimley Johnson. Illustrated by Chas. Robinson' via The British Library.
July 25, 2014
naviwing: Yet another one that I'm parting with! The History of the Caliph Vathek by William Beckford.
July 21, 2014
July 20, 2014
naviwing: I'm thinning out my book collection! These are Pocket University texts from 1925. They're quaint anthologies.
July 16, 2014
June 29, 2014
James Dean reading James Whitcomb Riley.

submitted by fer1972.
June 26, 2014
Threats and Warnings on Bookplates
It was traditional, particularly before the invention of the printing press when books were all hand written manuscripts, to letter a curse into the book to prevent theft. Unfortunately, it doesn't seem to have worked very well, as the books also had to be chained into place. Even chains had limited effect. Witness the many ancient libraries where there are still chains in place… but no books.
Here are a few examples:
Thys boke is one
And God's curse another;
They that take the one
God geve them the other.
He who steals this book
may he die the death
may he be frizzled in a pan…
This present book legible in scripture
Here in this place thus tacched with a cheyn
Purposed of entent for to endure
And here perpetuelli stylle to remeyne
Fro eyre to eyre wherfore appone peyn
Of cryst is curs of faders and of moderes
Non of hem hens atempt it to dereyne
Whille ani leef may goodeli hange with oder.
Steal not this Book my honest Friend
For fear the Galows should be your hend,
And when you die the Lord will say
And wares the Book you stole away?
A variation on the same theme:
Steal not this book, my worthy friend
For fear the gallows will be your end;
Up the ladder, and down the rope,
There you'll hang until you choke;
Then I'll come along and say -
"Where's that book you stole away?"
From the Monastery of San Pedro, Barcelona, a blanket curse for the entire library…(I really wish this one existed, but unfortunately, it appears that it is apocryphal — there is no monastery in San Pedro. It's so nasty though that I include it anyway.)
For him that Stealeth a Book from this Library,
Let it change into a Serpent in his hand & rend him.
Let him be struck with Palsy, & all his Members blasted.
Let him languish in Pain crying aloud for Mercy,
Let there be no Surcease to his Agony till he sink to Dissolution.
Let Bookworms gnaw his Entrails in token of the Worm that dieth not,
When at last he goeth to his final Punishment,
Let the flames of hell consume him for ever & aye."
(source: Littera Scripta).
Lew Jaffe, from Confessions of a Bookplate Junkie, shared his collection of bookplate threats and warnings done by different artists.
1. Lloyd Douglas. 2. Marion Nutt. 3.  Stanley Dressler Lovegrove. 4. Malcolm M. Ferguson. 5. Philip Reed. 6. Artist unknown.
June 11, 2014
Cheryl Tiegs advertising for Montauk library 1982

Life Archive

submitted by les-sept-couleurs