A man's library is a sort of harem. — Ralph Waldo Emerson
I have always imagined that Paradise will be a kind of library. — Jorge Luis Borges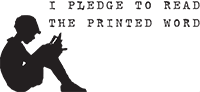 Contributors:
¿Quién es esa chica?
Okjol
Frá Sjó
Ask
Submit
April 1, 2013
"But isn't it true that an author can write only about himself?"
— Milan Kundera
January 6, 2013
Agatha Christie
December 26, 2012
December 26, 2012
"There are only three things to be done with a woman. You can love her, suffer for her, or turn her into literature."
— Henry Miller
December 26, 2012
December 26, 2012
Happy Birthday, Henry Miller!
December 18, 2012
"No tears in the writer, no tears in the reader. No surprise in the writer, no surprise in the reader."
— Robert Frost
December 9, 2012
December 8, 2012
One of my all time favourites, arguably one of the best writers the UK has ever produced.
November 7, 2012
This is Nick Miller, he's the author of Isn't It Pretty To Think So?
Discover his novel!
Follow him on Tumblr | Facebook